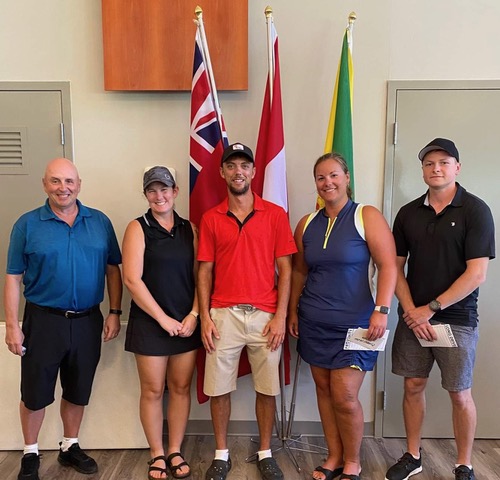 The 57th RCEME National Golf Tournament, run by LAD 103 Borden, was held from 3-5 August. It turned out to be a great event as we almost doubled the number of golfers prior to COVID, with 96 on the course this year. Although the weather forecast for Thursday wasn't good, Mother Nature cooperated, and the only precipitation came in the form of perspiration! Friday was great golf weather – hot and steamy!
Of course, a tournament like this does not happen without a great Committee, this year under the very capable direction of Lorne Eastaugh and Tom Murphy; Fred White, Sue Wehling, Helen, and Fred Martin complemented the team.
While there were several sponsors, this was the first year that the RCEME Heritage and Museum Foundation had the opportunity to be a sponsor. Their sponsorship of four $150 prizes for "Closest to the Hole" was much appreciated. Pictured below on the left is Steve Poole, RCEME Foundation Director, presenting prizes to the winners; Lacey Theoret – Kyle Thompson – Holly Polasek- Zbigniew Menartowicz.
If you're a golfer and you haven't been to our tournament, plan on attending. Arte et Marte